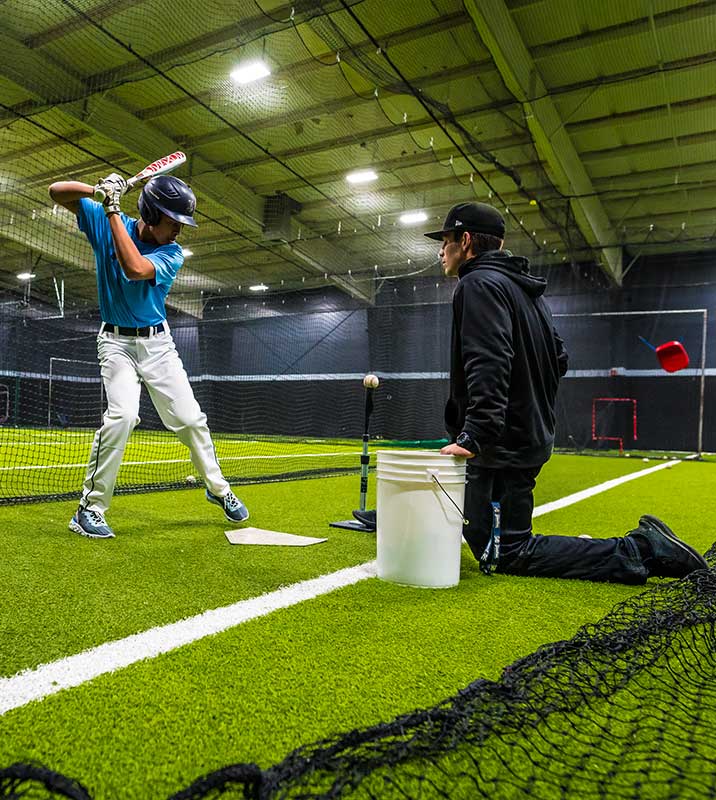 1-ON-1 OR SMALL GROUP
LESSONS
Ever wonder why Major League teams have so many specialized coaches? It's because hitting, pitching, and advanced fielding are among the toughest things to do in sports – and even the best athletes in the world still need lots of instruction throughout their careers.
That's why EL1 has developed a robust system of 30- and 60-minute lessons for individuals and small groups, led by instructors who have played at the highest levels. Our lessons are highly specialized, custom-designed for each athlete, and can integrate as much or as little technology as you want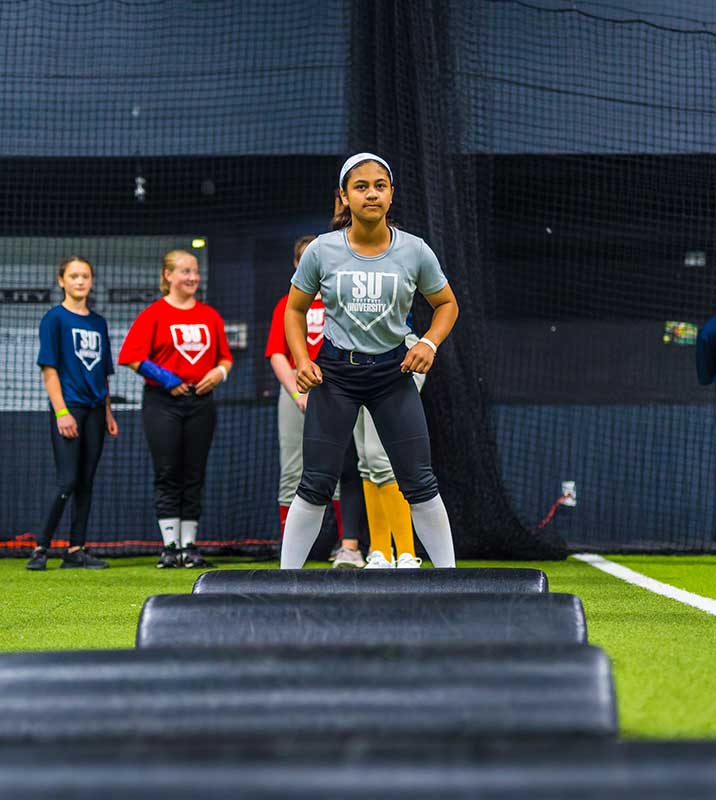 SPECIALIZED INDOOR AND OUTDOOR
CAMPS & CLINICS
In our training academies, as well as in community facilities and Major League stadiums, we offer a wide variety of baseball and softball camps & clinics for athletes of all ages and skill levels.
Our programs range from single-day to multi-week, and include everything from seasonal all-skills camps to position-specific clinics to strength and agility programs to high-tech camps – even destination camps in Hawaii! The emphasis is always on growth, progressive development, and fun.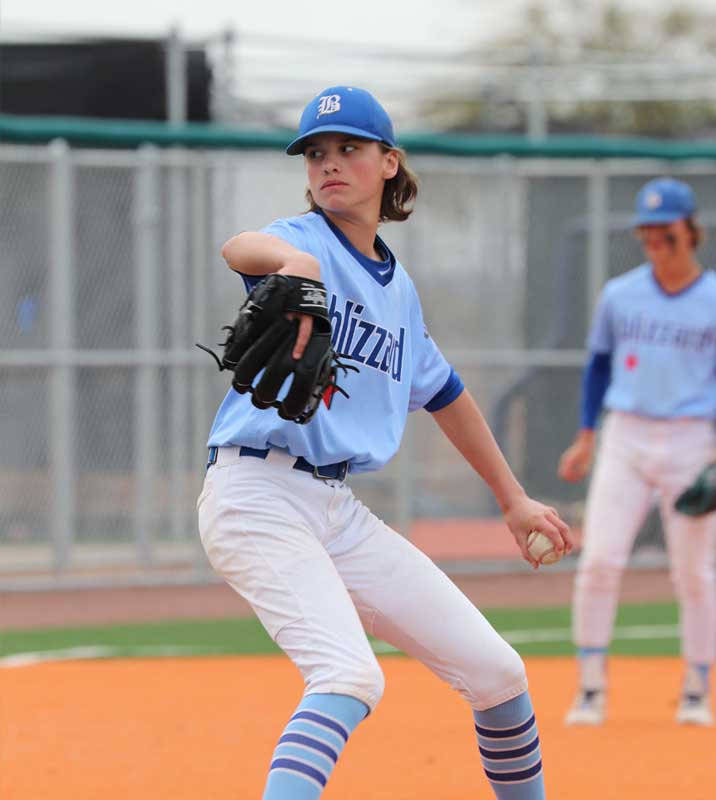 FIRST-RATE BASEBALL AND FASTPITCH SOFTBALL
TOURNAMENTS
Each year our Premier Sports Tournaments division operates more than 100 highly regarded baseball and fastpitch softball tournaments throughout the Pacific Northwest, Southwest, and Mid-Atlantic, featuring some of the best competition in the country.
From logistics to field quality to an engaging digital experience, we focus on the little things – because we know that long after the wins and losses are forgotten, the memories of a great experience will linger for athletes, coaches, and parents.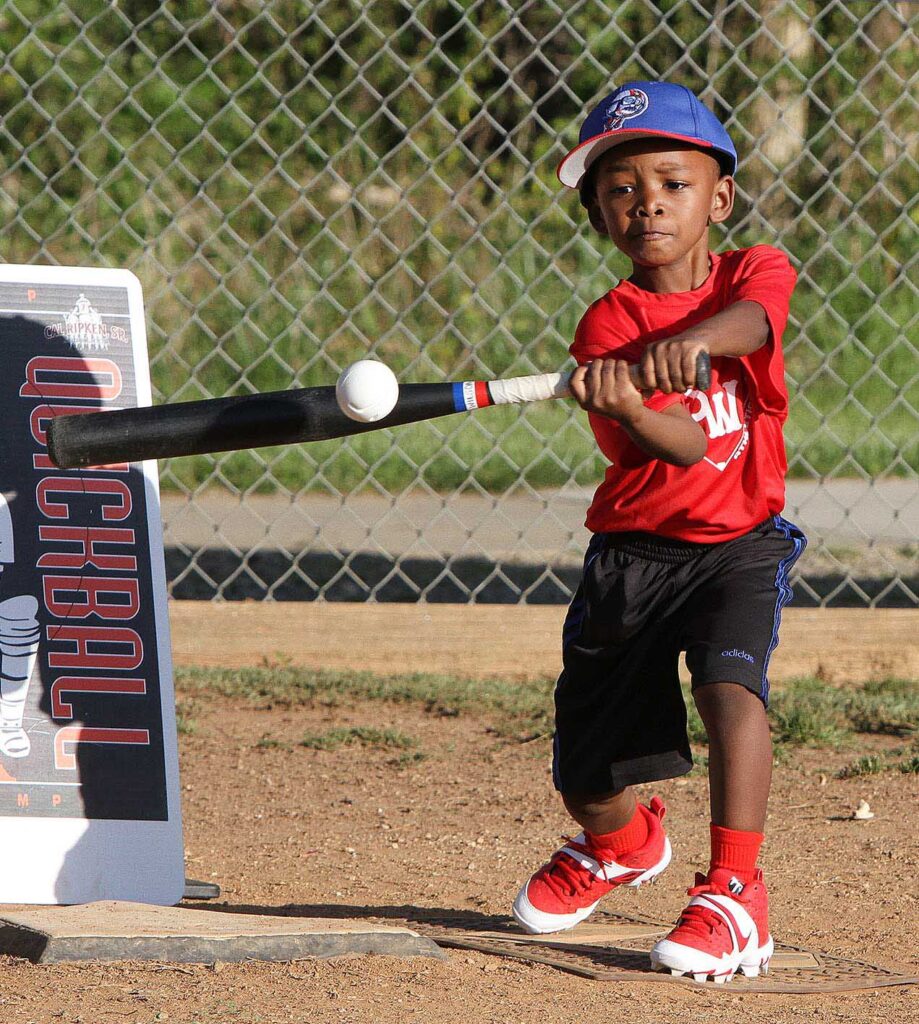 IT'S ABOUT FUN… IT'S ABOUT TIME
QUICKBALL
Quickball is our developmental tool / sport that's great for everyone from 3 to MLB – but it's especially useful at the entry level, where interest in the game and fundamental skills need to take root. It's baseball at twice the pace in half the space and a fraction of the cost.
POWERED BY PROGRAMS
DESIGNED TO MAKE LIFE EASIER

FOR THE UNSUNG HEROES WHO LABOR NOBLY TO KEEP YOUTH SPORTS GOING: COACHES AND LEAGUE ORGANIZERS
AN INNOVATIVE SOLUTION
WE WORK, YOU PLAY
League organizers, coaches, and parents all know this simple truth: on the field and off, there is way more to running a youth sports team than meets the eye.
That's why we developed the Powered By program. It's a unique suite of services that taps into EL1's size and expertise to help teams with everything from administrative support behind-the-scenes to supplemental and specialized instruction on-the-turf – ultimately allowing coaches to do what they do best: coach.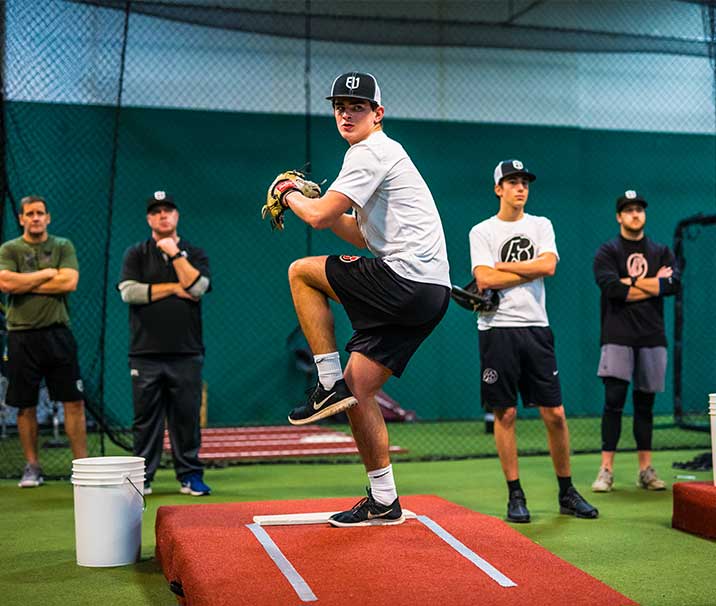 WHAT WE OFFER
BACK OF HOUSE ADMINISTRATIVE SERVICES
ACCOUNTING
No more late-night struggles with Excel, Coach. EL1 efficiently handles all the drudgery of budgeting, fee collections, refunds, and paying team invoices.
ROSTER BUILDING
Let EL1 assist you with building your roster and managing player registrations, including waiver forms and biographical info.
UNIFORM AND FAN GEAR
Because we work with hundreds of teams we have buying power, and can often make the process of ordering uniforms and fan gear much easier – and less expensive.
CUSTOMER SERVICE
No matter where your team is based, you will have a dedicated representative on the EL1 team who will be available to assist you with problem-solving your administrative needs.
ON THE TURF TRAINING SERVICES
TEAM TRAINING
The core of our Powered By training program takes place in our growing network of facilities – where coaches will bring their entire team to run their own practices using our turf, cages, pitching machines and high-tech systems, supplemented by our position- and skill-specific instructors.
OPEN FACILITY USE
Many Powered By teams arrange to take advantage of open facility time, so that team members can get in some extra reps and additional swings – no matter what the weather is like outside. Performance training and 1-on-1 and small group lessons are also available.
HIGH TECH HELP
All EL1 facilities are equipped with HitTrax, Rapsodo and Diamond Kinetics systems, and our trained instructors will help coaches utilize the advanced data and metrics to give their teams amazing insights into swing and pitching mechanics.
COACH AND PARENT EDUCATION
Powered By teams can also take part in our programs to help coaches map an instructional curriculum and run better practices, and to assist parents with some of the many challenges of supporting their athletes' needs.
POWERED BY ROSTER
EL1 has provided Powered By services to hundreds of teams over the years. Here are some of our current partners.
Baden Baseball
WA | 11 Teams
Blue Line Baseball
CA | 5 Teams
Boilermakers Baseball
PA | 9 Teams
Boilermakers Softball
PA | 6 Teams
Bothell Baseball Club
WA | 3 Teams
Diamond Jaxx Baseball
MI | 3 Teams
Futures Baseball
CA | 3 Teams
Grit City Thunder Baseball
WA | 1 Team
GBG South Bay Baseball
CA | 9 Teams
Hooks NW Baseball
WA | 11 Teams
Hooks Softball
WA | 2 Teams
Legends Baseball
WA | 1 Team
Liberty Select Baseball
WA | 4 Teams
Mercer Island Baseball
WA | 7 Teams
Merchants Baseball
WA | 13 Teams
Merchants Softball
WA | 3 Teams
NW Reign Baseball
WA | 5 Teams
Shockwave Baseball
WA | 5 Teams
Sound Baseball
WA | 1 Team
Pioneers Baseball
PA | 8 Teams
Pioneers Softball
PA | 2 Teams
Pro Skills Baseball
NJ | 7 Teams
PSP Baseball
WA | 2 Teams
Rake Baseball
PA | 6 Teams
Rake Softball
PA | 2 Teams
Reapers Baseball
PA | 2 Teams
Seattle Pilots Baseball
WA | 1 Team
Sundodgers Softball
WA | 7 Teams
Tacoma Baseball Club
WA | 8 Teams
Turn Two Baseball
WA | 3 Teams
Utility Travel Baseball
MI | 6 Teams
Valley Vipers Softball
WA | 1 Team
Washington A's Baseball
WA | 17 Teams
Washington A's Softball
WA | 1 Team
Washington Awards Baseball
WA | 5 Teams
Watley Crew Softball
GA | 2 Teams
West Coast Express Baseball
WA | 2 Teams
Whitemarsh Generals Softball
PA | 5 Teams